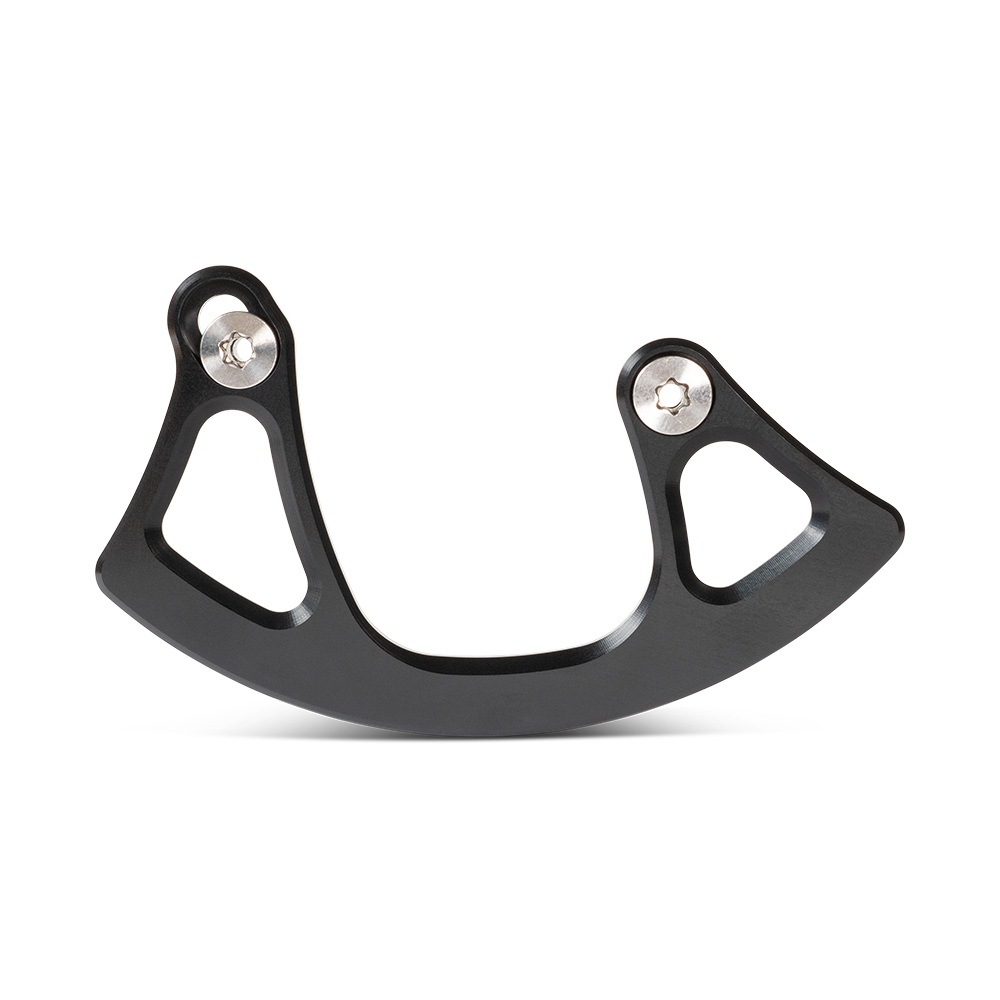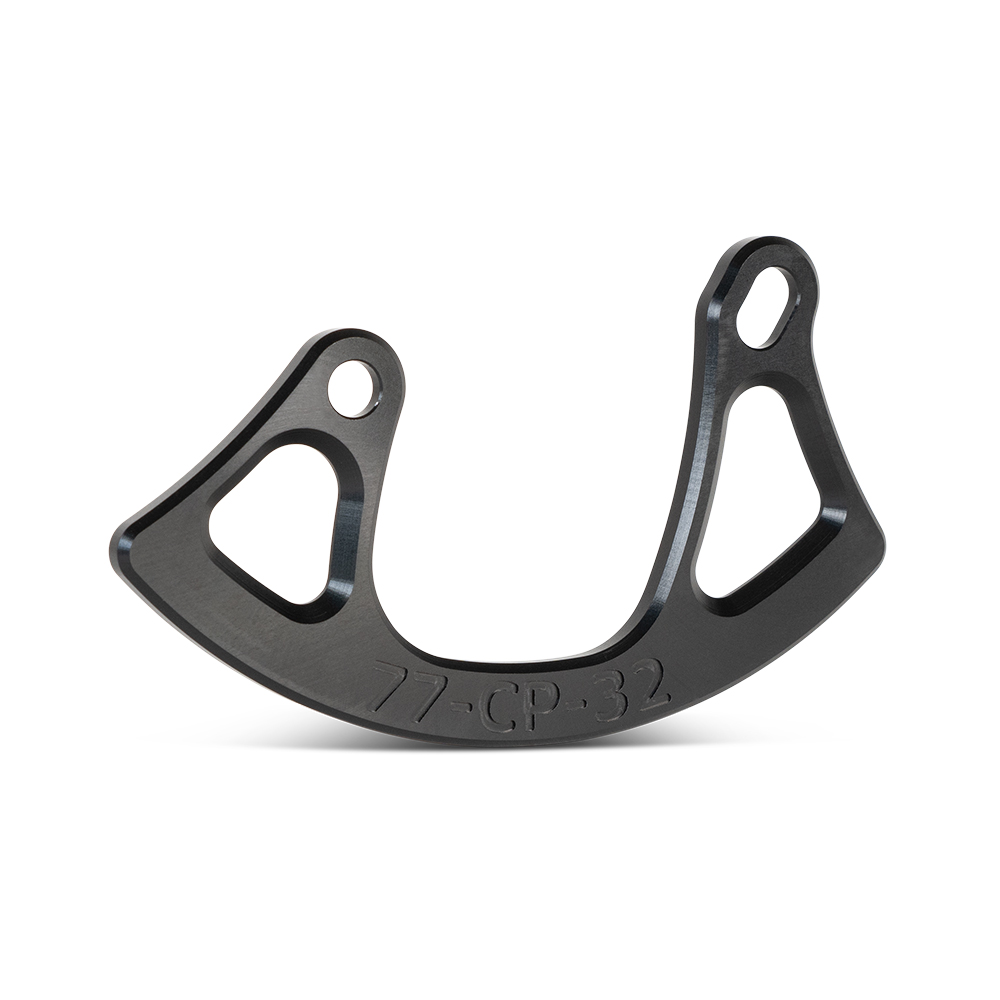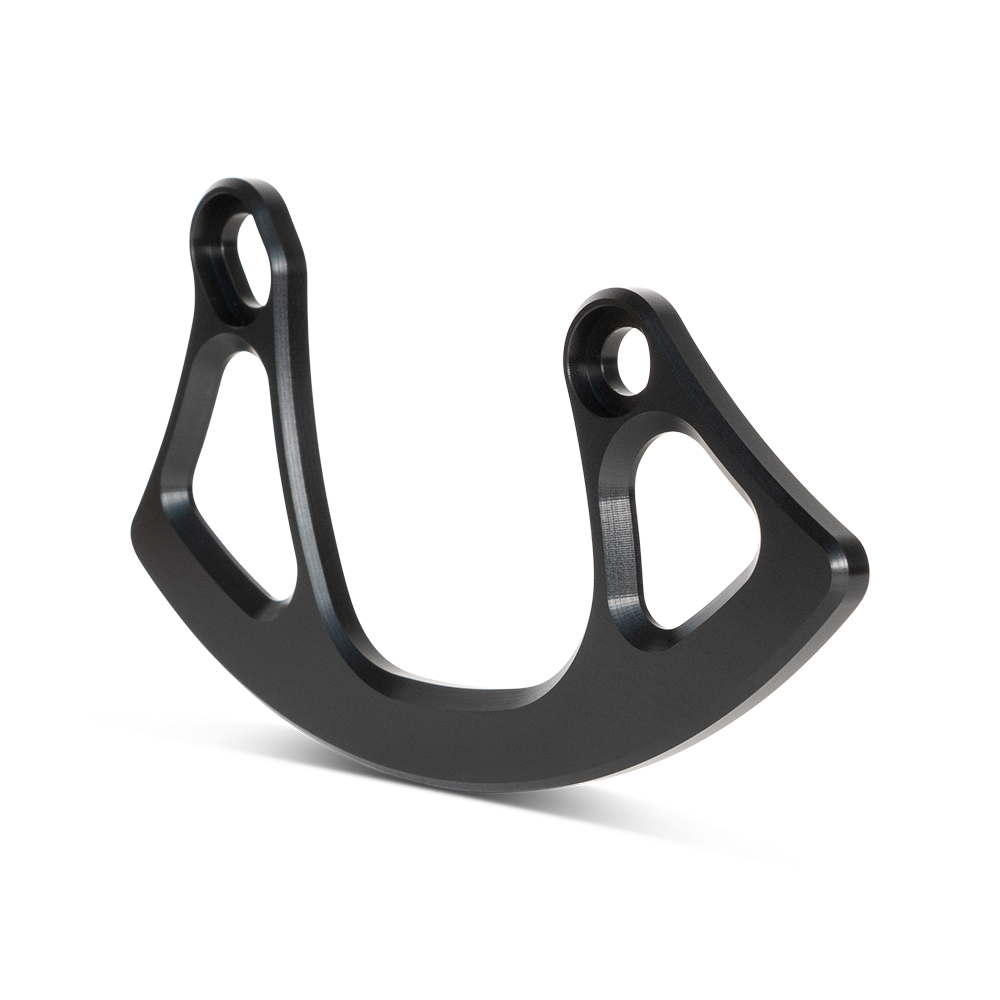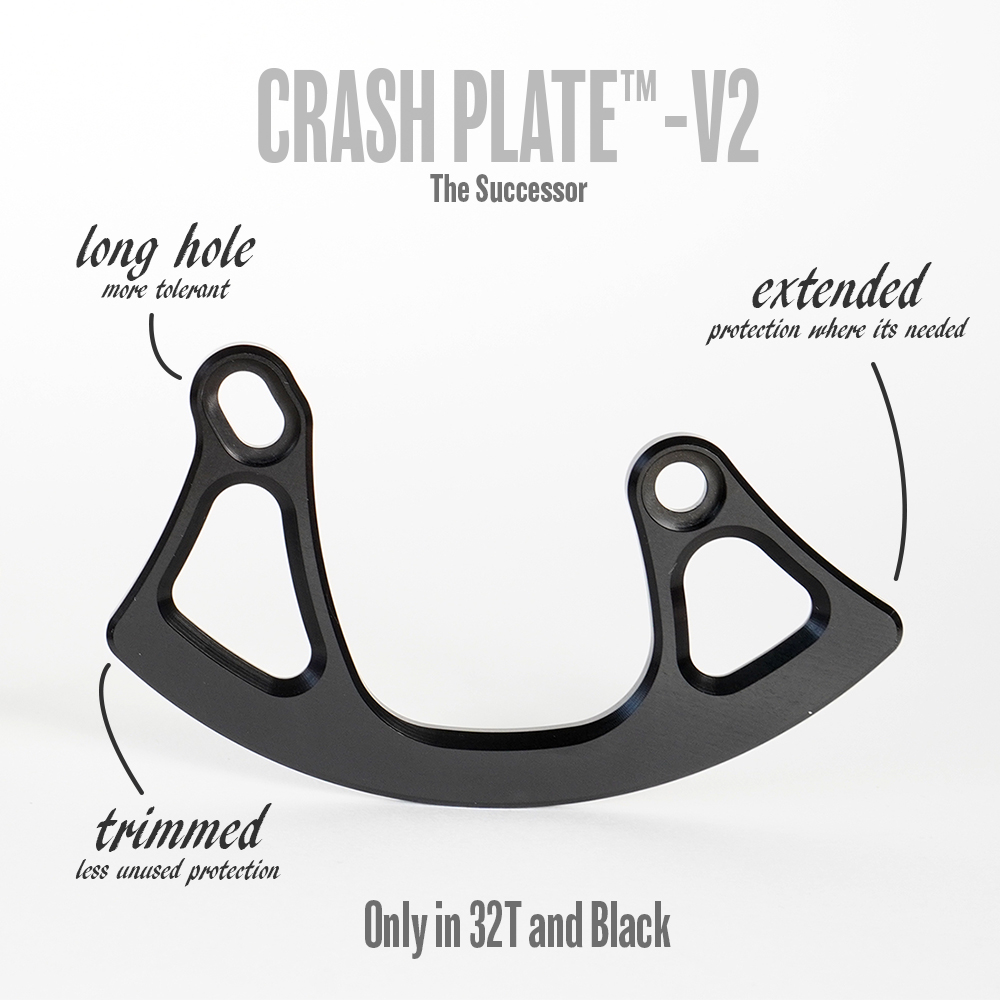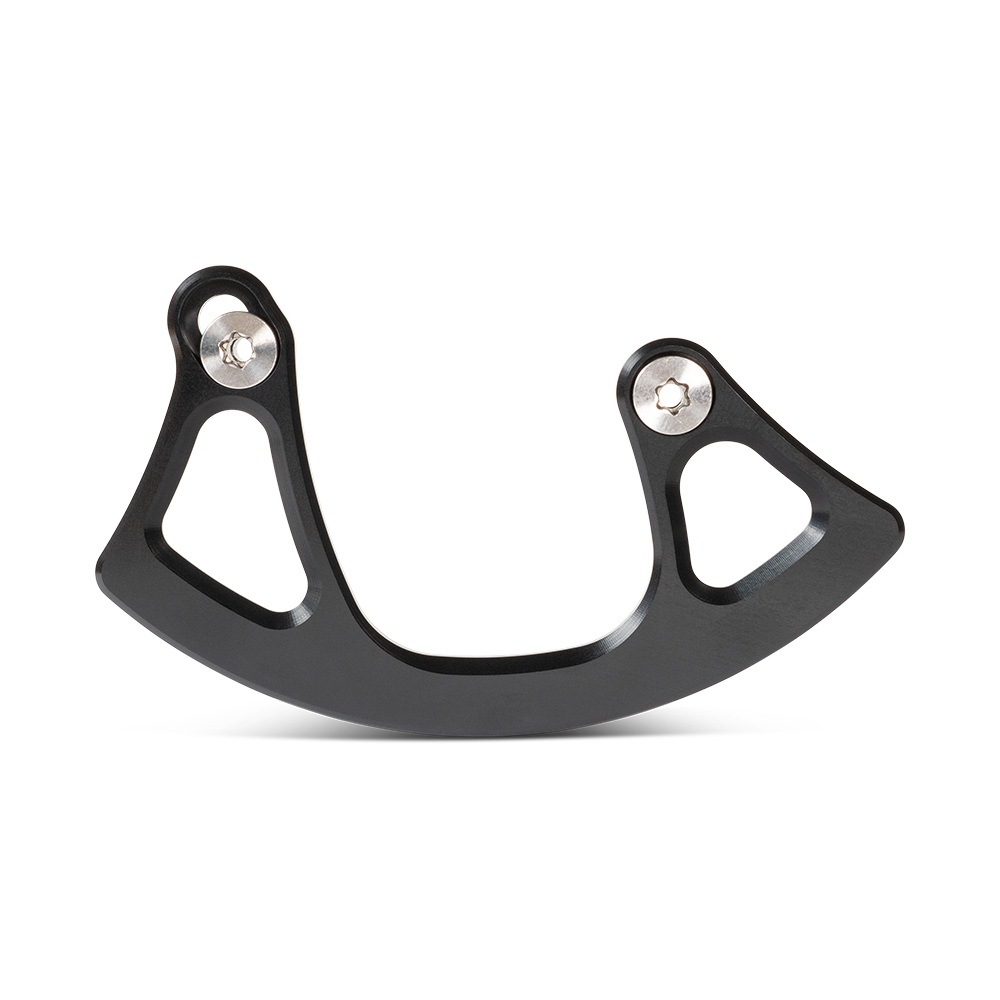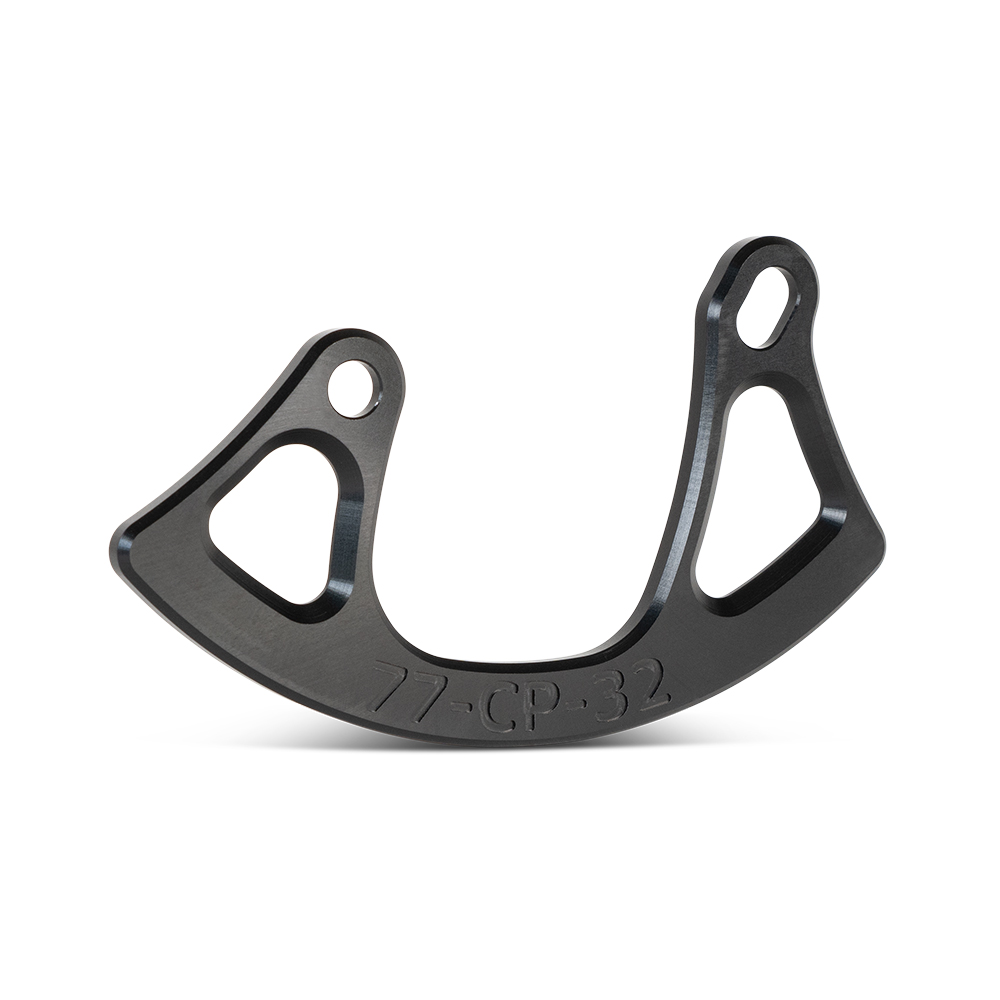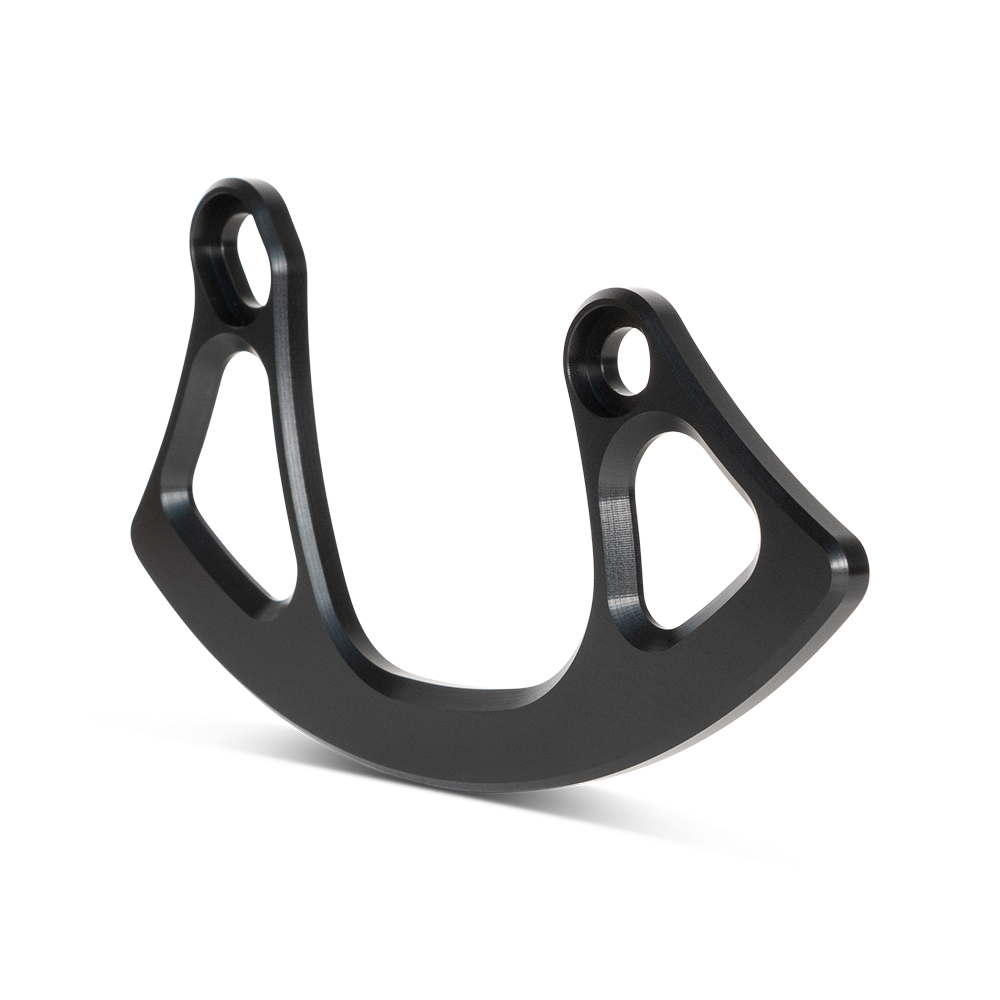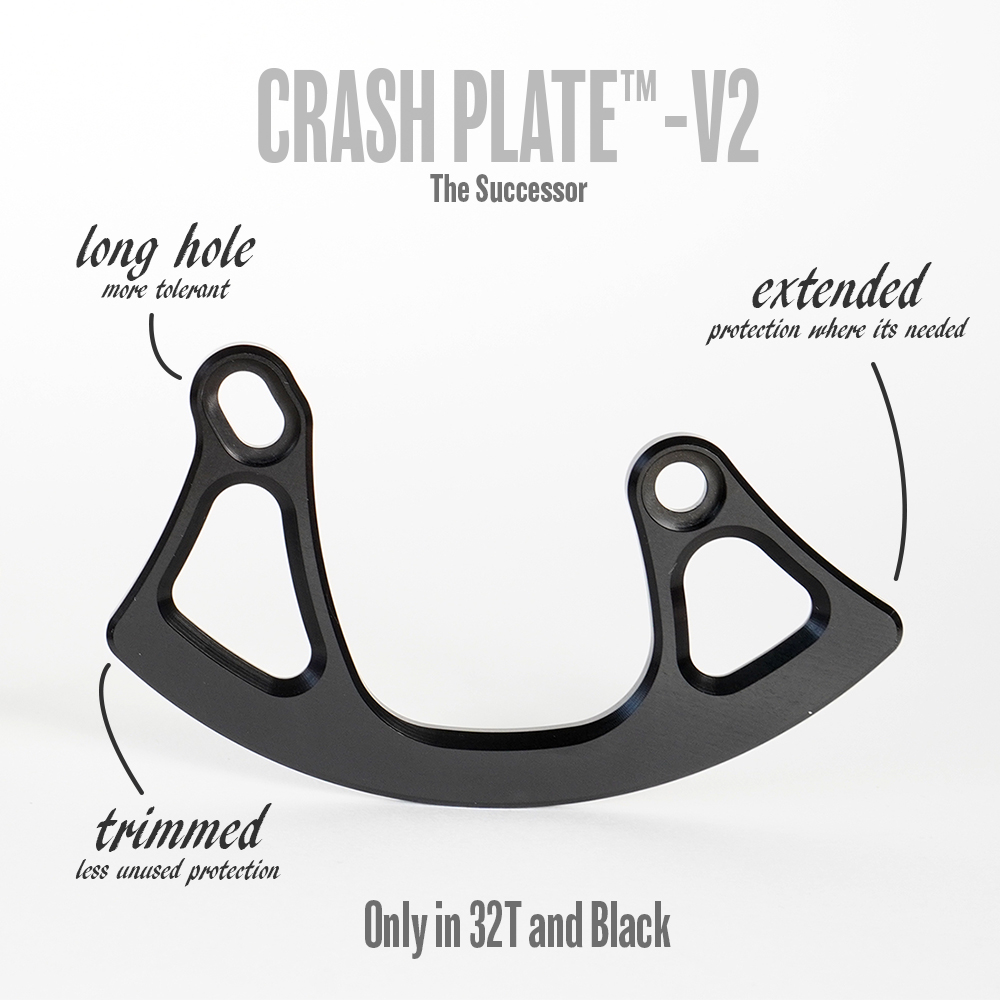 Available, delivery time 1-3 Business Days in Germany
Order number:
CP-05-V2-BLK-32
Product information "CRASH PLATE™- ISCG 05 – V2"
The V2 of our legendary 77designz CRASH PLATE is milled from extremely tough 7075 T6 aluminum. It protects your chainring (round or oval) from impact damage. Currently, there is only one size, but we are working on three more sizes and seven colors. Compared to the V1, we have optimized the contact orientation; the new slotted hole means the Taco now also fits Santa Cruz carbon frames. Disassembling the crank is unnecessary to install the Crash Plate, which means assembly is effortless and quick. The minimal overlap of the Taco Bashguard offers the best protection for your chainring while maintaining maximal ground clearance. The Crash Plate can be combined with our ISCG 05 chain guides - all you need is the connector.

FEATURES:
Super light - Our Crash Plate uses a thin aluminum plate, which is very light but still stronger and more durable than most bulky alternatives.
2 hole mounting - This allows easy installation of the Crash Plate without removing the crank. The Crash Plate now fits all Santa Cruz Carbon frames thanks to a small slotted hole.
Hollow screws with T25 - The hollow and stainless screws are lightweight and protect the ISCG mount of the frame from overload.
Precise fit - we offer our Crash Plate in 4 different sizes. Due to the minimal overlap of the Crash Plate, you can maintain valuable ground clearance.
Optimized rotation of the contact area - the alignment of the contact zone on the V2 has been improved to protect expensive chainrings and chains during casual rides and races.
Eco-friendly packaging - Our parts are packed in small paper bags without any plastic
5 Year Warranty - We are completely convinced of the quality of our parts, which is why we offer a 5 year warranty on all material and manufacturing defects from the date of purchase
Made in Germany - We manufacture our chain guides in Germany, which reduces CO2 emissions from transport and supports our local economy.
SPECS:
Mount: ISCG 05 (Now fits the Santa Cruz Carbon Frames)
Round chainring: 30-36T (Choose the same size or bigger: 32T Round Ring = 32T CRASH PLATE)
Oval chainring: 28-34T (Choose +2 teeth or bigger: 32T Oval Ring = 34T CRASH PLATE)
Made for: 1x10, 1x11 or 1x12 drivetrain
Material: AL 7075 T6 Anodized
Hardware: Torx 25 Stainless Steel hollow bolts
Colors: Black
Sizes: 32T | 34T
Diameter: 30T > 133mm | 32T > 141mm | 34T > 149mm | 36T > 157mm
Weight: 30T > 25g | 32T > 27g | 34T > 29g | 36T > 31g
INFO:
The bashguard is 5 mm thick, and the screws are flush. The screws we use are hollow drilled, so they can shear off in case of an overload. These bolts prevent damage to the frame. Order your spare bolts here: M6x11 SS Hollow Bolts two spare bolts are already included.
Most of the bike frames nowadays are designed to carry the load introduced by a Taco Bashguard or Crash Plate; regardless, you should still consult your frame manufacturer about whether your frame is approved for our crash plate.
INCLUDES:
3x M6x11 SS Hollow Bolts (1 Spare Bolt)
1x 77designz Sticker
---
Fits perfect and looks great.
Fits perfect and looks great.
does what you want it to and looks great!
I searched the globe for a solution to protect my chainset while keeping it free of clutter. Most of the ones on the market work fairly well, but aren't pretty like this one and not nearly as light. Took 2 minutes to install, and the lovely blue color flashes my drivetrain nicely. Deflects wooden park features and logs w no problems. I've tried many styles from e13, mrp and Blackspire, but 77designz is now the only one I would use as it ticks all 3 boxes. Light. Cheap. Strong.... And so pretty! I may even get a few different colors to rotate.
Top Qualität zu Top Preis. Passt mit der Freesolo perfekt an den Downhiller. Bei runden Garbaruk-Kettenblättern könnte man sogar fast eine Größe größer wählen, wegen der sehr langen Zähne.
Great Products, reasonable prices and excellent customer service. What else to wish for a one small Company. Highly recommended ! P.S. Giacomo, will send You a pics of my bike with parts mounted soon. Thamk You.
The machining is top notch. Great fit amd finish. The added logo stickers are dope too ; ) Would highly recommend.
Super robuster hochwertiger Eindruck! Montage
Super robuster hochwertiger Eindruck! Montage in weniger als 5 Min. War alles dabei zum befestigen.