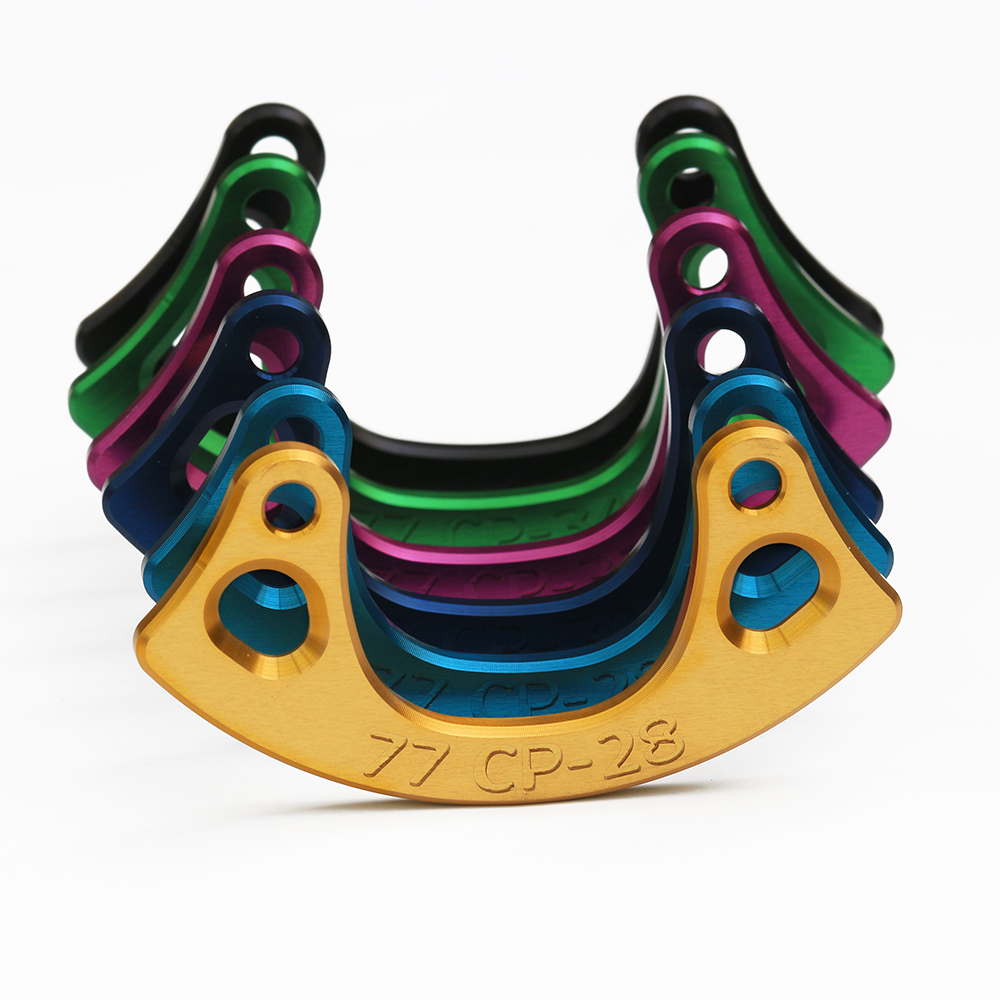 €26.95*
%
€34.95*
(22.89% saved)
Available, delivery time 1-3 Business Days in Germany
Product number:
CP-05-BLK-28
Product information "CRASH PLATE™ - ISCG 05"
The legendary 77designz CRASH PLATE is milled from extremely stable 7075 T6 aluminum and offers your chainring, whether round or oval, the necessary safety in case of ground contact or unintentional contact. With seven different colors and four different sizes, you should find the right version for your bike. Disassembly of your crank is not necessary for the installation of the Crash Plate; therefore, the assembly is easy as pie. The minimal overlap of the Crash Plate offers the best protection for your chainring with optimal ground clearance without applying thick layers.
FEATURES:
Install without crank removal
Single tool installation
Designed for Oval and Round Chain Rings
Incredible light and strong
Protects your Chainring and Chain
Hollow bolts to protect your ISCG tabs
Torx 25 just like all of our small bolts
Maximum ground clearance due to its minimal overlap
Eight color options and five different sizes
SPECS:
Mount: ISCG 05
Round chainring: 28-36T (Choose the same size or bigger: 32T Round Ring = 32T CRASH PLATE)
Oval chainring: 26-34T (Choose +2 teeth or bigger: 32T Oval Ring = 34T CRASH PLATE)
Perfect for: 1x10, 1x11 or 1x12 drivetrain
Material: AL 7075 T6 Anodized
Hardware: Stainless Steel Screws
Colors: Black, Grey, Natural, Red, Orange, Gold, Blue, Turquoise, Green
Sizes: 28T | 30T | 32T | 34T | 36T
Diameter: 28T > 125mm | 30T > 133mm | 32T > 141mm | 34T > 149mm | 36T > 157mm
Weight: 28T > 28g | 30T > 30g | 32T > 32g | 34T > 34g | 36T > 36g
INFO:
The Crash Plate does not fit onto all Santa Cruz Carbon Frames as their ISCG 05 has too large tolerances. It is best to measure before ordering, the center to center distance should be 55.9 +/- 0.3 mm. If you are uncertain consider the V2 it was designed to solve the issue:
https://77-store.com/en/CRASH-PLATE-ISCG05-V2/CP-05-V2-BLK-32
The bash guard is 5 mm thick, and the screws are flush. The screws we use are hollow drilled so they can shear off in case of an overload. These bolts prevent damage to the frame. Order your spare bolts here: M6x11 SS Hollow Bolts
Most of the bike frames nowadays are designed to take the loads introduced by a Tacco Bashguard or Crash Plate, nevertheless, you should consider with your frame manufacturer whether your frame is approved for our Crashplate or not.
INCLUDES:
2x M6x11 SS Hollow Bolts
1x 77designz Sticker