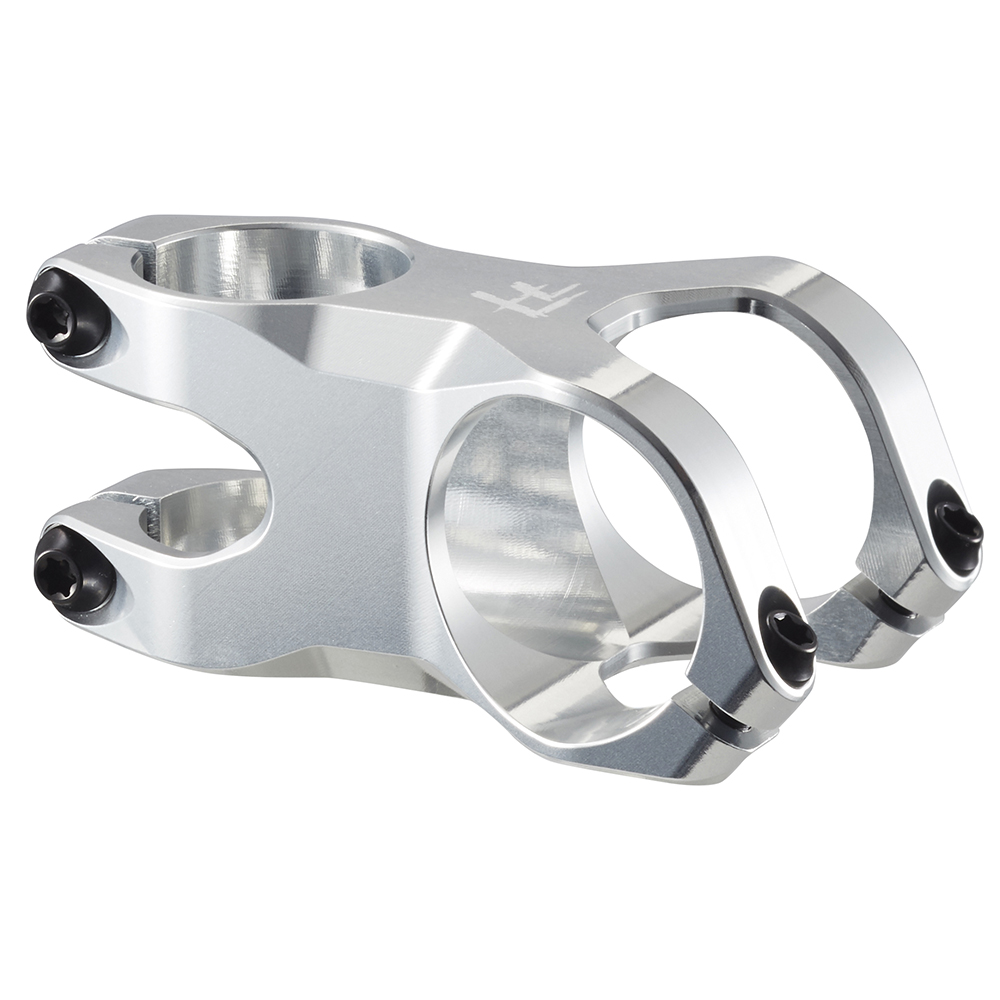 No longer available or currently not available.
---
Product information "One Piece Stem"
A super-light Enduro Stem with a 35mm clamp that you can rely on. The smart one-piece construction allows for low weight while being sturdy and stiff. You can choose between 7 different colors and the lengths 35 and 45 mm, so you can customize your bike and adapt it to your personal needs. The assembly with the 77designz carbon handlebars is a piece of cake, but also handlebars from other manufacturers can be mounted with up to 20 mm rise. The 35mm short stem weighs an incredibly light 69 grams, and its 45mm counterpart weighs only 84 grams. Titanium screws are included, and we have passed a DH-level Test at the EFBE test laboratory.
FEATURES:
Requires only a T25 key
EFBE Tri Test MTB Gravity Approved
1 Piece Construction
Titanium screws
High Stack for best Stiffness to Weight
Carbon friendly Clamping
SPECS:
Headtube: 1.1 / 8 "
Handlebar: 35 mm
Stack: 40 mm
Length: 35 mm / 45 mm
Material: AL 7075 TXXXX
Bolts: Torx 25 titanium screws
Colors: Black / Grey / Natural / Orange / Gold / Red / Blue
Weight: 69g (35mm length) 84g (45mm length)
Comes incl.:
4x Titanium bolts Black
77designz Sticker
Installation Instruction (Download only! If you need a printed version, drop us an email)
Information:
This stem was developed and tested as a unit with our (Handlebar Carbon 35). Even though the One Piece Stem is fully approved to be used with other handlebars, it is not allowed to spread it, which might make it difficult to use it with other handlebars. The minimum clamping area at the steerer is 39mm.
Custom Bolts:
For our stems, we use entirely custom made titanium butted screws with a Torx 25. If you want to switch to golden, natural or oil slick bolts, drop us a message before you place your order, and we will set you up.
Tested at the highest level:
We see no difference between Enduro and Downhill racing; that's why our products get tested on Downhill Level (ASTM F2043-13 / Category 5).
The Collaboration with We Are One!
The concept idea for the cockpit comes from us, but for the implementation, we needed a reliable partner who is well versed in carbon fabrication, we found this partner with We Are One Composites. We Are One has enriched the handlebar with the small retention nipple on the handlebar which holds the aluminum ring in position. We Are One filed a patent for this idea. We are One Composites from Kamloops / BC in Canada is the manufacturer of our handlebars and distributes a conceptually identical cockpit in North America.
---
Beautifully crafted and engineered piece. Looks great and works like it should.
Extrem leichter, optisch wunderschöner Vorbau.
sehr schön gearbeiteter Vorbau, optisch ein Traum! Das Gewicht ist der Wahnsinn! Schön finde ich auch die Details wie die dezent am Vorbau angebrachten Drehmomente! Ich bin sehr happy mit der Entscheidung für dieses Traumteil und sehr gespannt wie er sich mit dem 77designz Lenker fährt!
Besser als Syntace und Newmen!!!
Der Vorbau hat ein absolut einzigartiges geniales Design! Lenkeraufnahmen ist sehr breit und super steiff! Und wiegt dabei noch weniger als z. B. Newmen oder Syntace. Bester Vorbau den ich je an einem Bike hatte!
What a combo this stem with the 77 carbon bar !!! Never saw more beautiful
I brought this stem mainly for its look and I'm not disappointed at all !I managed to fit a 25mm rise chromag bars without any problems.
Unglaublich leicht, und wunderschön
Fräskunst auf hohem Niveau. Mein Vorbau hat 70 anstatt der angegebenen 69 Gramm, aber das kann ich verkraften ;-)
die vorbau ist so leicht, das man glaubt das die umverpackung leer ist. die klemmung ist super und hält bombenfest. das aussehen ist ein traum und somit alles richtig gemacht. ich empfehle diesen vorbei uneingeschränkt!!!
Looks great! Very light. Arrived fast to the US.