We Make You Faster*
*A bold claim backed by 95% of our customers, 5% only rides safer now.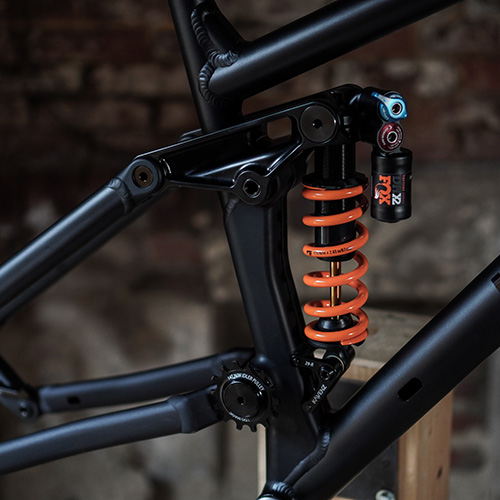 Virtual High Pivot
Our frame takes all the advantages of high pivot point bikes without the disadvantage of a very high anti rise. Unlike typical HPP bikes, our VHP system conserves the geometry and offers enough traction under rear braking. Further, it provides massive support under pedaling without the downside of pedal kickback. The so-called Anti Squat is even fine-tuned trough out gears and travel.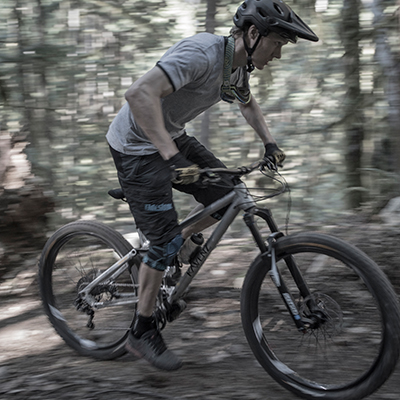 High Anti Squat
Bikes with High Pivot Points naturally offer excellent support under pedaling without the downside of pedal kickback when using an idler pulley to reroute the chain. But we went a bit further and optimized the Anti Squat throughout the gears and travel to achieve what we believe is perfection. Plenty of support when climbing but no Pedal Kickback when descending, that makes you faster!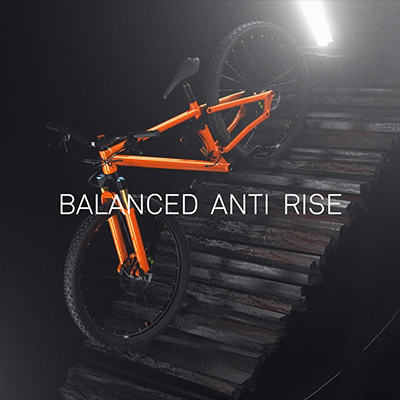 Balanced Anti Rise
Anti Rise is usually the weak point of High Pivot Point bikes as too much Anti Rise results in a less active suspension and loss of travel and traction. That's why we paid lots of our attention to design a bike that does not change the geometry under rear braking and keeps the suspension active but also prevents the rider's mass from shifting forward. We call it VHP16 and it makes you faster.
Geometry:
Allowing a high level of customization is vital for a bike that fits you like a tailored suit. That´s why we don´t offer any standard sizes like medium or large. Instead, we offer a set of Reach and Seat Tube options that can be combined to fit your personal needs. Reach can be anything between 440 and 540mm in 20 mm steps. The seat tube can be 420, 450 or 480 and the headtube can be either 110 or 125 mm.
And last but not least, you can decide if you want to build a pure 29er or a Mullet. The switch will be done by exchanging the shock mount so you can change it anytime later on. That totals in 36 possible sizes if we don´t count the Mullet option, no wounder the Geometry table is full of information.
Here is an example:
Reach: 480 mm (third from left)
Seat Tube: 450 mm
Head Tube: 110 mm
Top Tube: 638 mm (third from left)
Front Center: 824 mm (third from left)
Wheel Base: 1249 mm (Front Center + Chain Stay)
If you need help with choosing your Geometry, get in touch with us, we are happy to help.
Specs.:
Rear Travel: 160mm
Shock: Trunnion 205x65
Mounting hardware: 22x8mm
Fork: 160-180
Crown to Axle 567-591mm (Geometry is designed with 581)
Headtube: ZS 44/56 (110mm or 125mm)
Headset: ZS44/28.6 | ZS56/40 (for tapered forks)
Rear-Brake: IS 2000 Rear-disc diameter 203 mm (PM 203 Adapter Included)
Rear Axle: X12 - 148mm (BOOST)
Bottom Bracket: 73 mm BSA (ISCG 05 Adapter Optional)
Chainguide: Top Guide for the Idler Pulley is included
Chainline: 49 mm for performance in climbing gears or 52 mm for DH gear priority
Tires: 29" x 2,6" (tire clearance 81 mm) 27,5" rear wheel options with different shock mount
Seattube: 31.6 mm inside / 35 mm outside - Length options: 420mm / 450mm / 480mm
Seatpost: 31.6 mm with internal seatpost cable routing MAX insert: (420) 280mm / (450) 310mm / (480) 340mm MIN insert: 100mm
Bottle: 750 ml (sideload bottle cage only)
Idler Pulley: 14T N/W
Bearings: 15x28x7 Max Type (S6902 LLU MAX) (one oversized bearing type throughout the whole frame)
Weight: 3,28 kg (RAW incl. hardware, w/o shock, Reach 460, Seat Tube 420)
Material: Frame - EN AW 7020 T6 heat-treated after welding, Axles - Titanium Grade 5
Finish and Color:
RAW (No sanding nothing just as pure as it gets)
Black Anodized (Sandblasted and chemically polished)
Powder Coated (RAL K5 Classic Color)
Shock Options:
Fox Float X2 - Fox DHX2 - EXT Storia Lok V3
(All shocks come in custom tune and coil shocks come incl. correct coil spring)
Fork Options:
EXT ERA 170 - FOX 38 170 - FOX 38 180
Check out some of the Beta Batch Frames: