Chainguides and Crash Plates
---
Who needs a chain guide anymore? We don't want to deny that N/W chainrings are a great innovation, but they are also subject to wear and tear, and the guiding effect fades, and the chain can start dropping. Therefore you still see chain guides, not only on the bikes of the professionals. Our models are incredibly light and bring you the last bit of safety during the hard pedaling. Our Crash Plate also helps to prevent the abrupt end of a race or tour due to a defective chainring. Through constant optimization of this combination of chain guide and crash plate, we can achieve system weights of around 50 grams. Freesolo and Oval-Guide are available for various mounting standards and chainring sizes. For all those who like it colorful, our Crash Plate is available in 7 different colors, and thus nothing unnecessarily protrudes in 4 precisely adapted sizes.
Reviews
---
If you're still not convinced, why don't you read some reviews?
PINK BIKE
If you're a fast rider, competing and frequenting rough terrain or someone who regularly finds their drivetrain clogged with crap, a chain guide to accompany your narrow-wide chainring is a wise move for that extra peace-of-mind. And at just over 20 grams and just over 60 bucks, Absolute Black's Oval Guide isn't going to upset the scales any more than your bank balance.
DIRT
77 DESIGNZ FREESOLO – THE WORLD'S LIGHTEST CHAINGUIDE?
Those of you with a good memory might remember the name 77 Designz. A few years back we saw them produce a beautiful, and extremely light direct mount stem, but then things went a bit quiet on the 77 Designz front. After a brief hiatus though the German company is back, and this time they've got a brand new...
DIA
The OVAL GUIDE from 77designz is the very first oval chainring-specific chain guide, solving the issue of keeping your chain secure. It's well-made, simple to mount, good value and performs reliably, and therefore went down a hit with the entire DI.A test team jury. The 'front flip' function – nope, nothing to do with acrobatics – was a standout feature, allowing you to mount and ...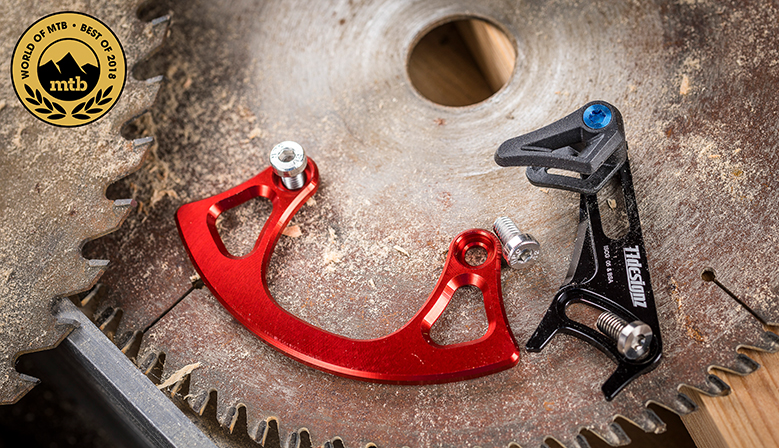 Installation Videos
---
In our installation videos, you can see for yourself how easy it is to install our chain guides.
absoluteBlack and 77designz
The unique cooperation of absoluteBLACK (oval chainring expert) and 77designz (smart, ultralight chain guides manufacturer), resulted with an entirely new product that is incredibly light, mounts in no time, secures the oval chainring at any position of the pedal and can be opened by hand if there is a need of chain removal.